School History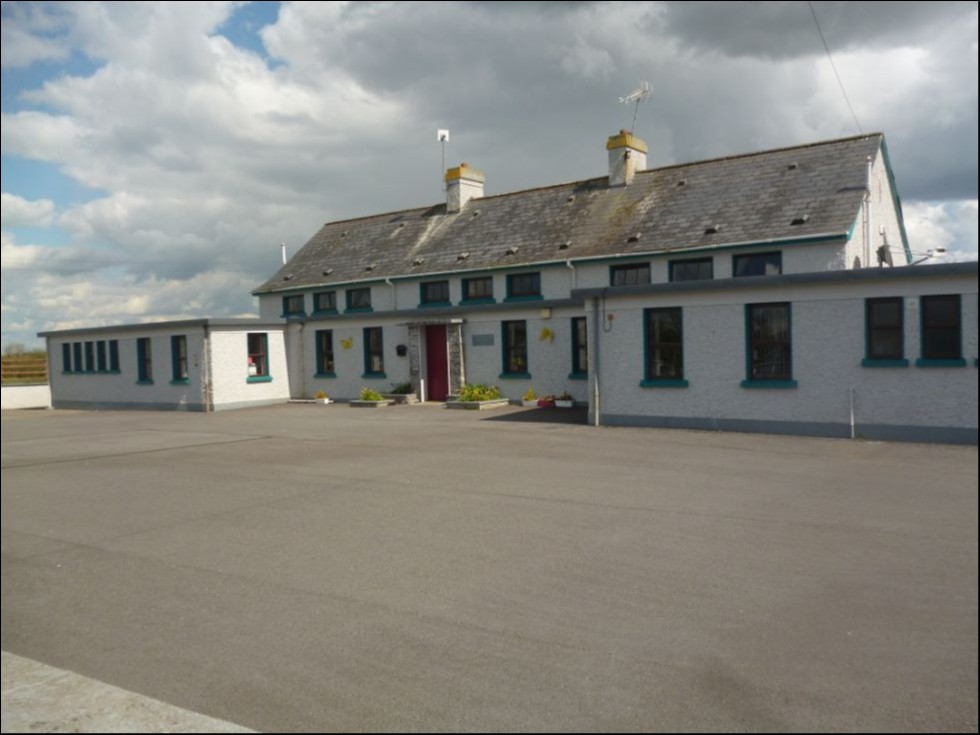 A Brief History of Windfield National School


Pre-famine ordnance survey maps indicate the presence of a school in this area about where Mrs. Margaret Giblin's house now stands in Curraghduff. This may have been one of the many temporary schools which sprung up around the country in the post "hedge-school" era.
The first permanent school building we know of was built in Windfield. The remains of this building still stand and lies on the Toomard side of Tim Kilcommins' present dwelling. Little is known however of the origins of this building.
The owner of the local Netterville Estate at the time was Madge Netterville, her married name was Mrs. Gerrard. It was she who also built the village of Newbridge but failed in her attempt to change the name to Newtown Gerrard. She is best remembered for her notorious evictions of the tenants at Ballinass, as vividly described in the "Freemans Journal of 1846". When she died in 1862, her estate was inherited by Mr. Fallon, he being the nearest relative. The building now known as the "Old school" was built in 1892. The building was built by the Hynes Brothers, Tom and Timothy, of Newbridge. As was common in those days, the one building contained two "schools", one for the boys and one for the girls.
Earliest records show that Mrs. Honora Morris was appointed Principal of the girl's school in January 1877. Her husband Mr. Tom Morris, a native of Glinsk, was Principal of the boy's school at the same time so it seems they taught in the very first building for a number of years before the "Old school" was built. Miss Winifred Hannon, a native of Cloonshivnia, joined Mr. Morris in the boy's school in 1908 and taught there up to about 1940. In the mean-time, she married John Kelly form Cloonascarbery, a brother of the late centenarian Paddy Kelly who died in 1992.
Mr. Tom Morris retired in 1924 and was succeeded by Mr. Mark Lohan, a native of Lissavruggy, as Principal of the boys' school. Miss Hannon (Mrs. Kelly) was succeeded by Miss Kathleen Meehan in 1942. Miss Meehan was a native of Lissadell, Sligo and had previously taught at Shankhill N.S., Kilkerrin. She later married Mark Lohan and they lived in the residence until they moved to Mountbellew in the late fifties.
As earlier stated, Mrs. Honora Morris was the first Principal of the girl's school. The earliest Inspector's report for that school dated 17th February 1896 indicate 57 girls on the roll. When she retired in 1908, she was succeeded by Miss Annie O'Donnell, a sister of the late Conon O'Donnell P.P. Ballygar. She later married Mr. Peter Lyons who taught in Ballygar. Her assistant was Miss Margaret Dillon from Bogganns who later became Mrs. Gately. When she left, she was succeeded for a brief spell by a Miss Tracy. Miss Gavin replaced Miss Tracy in or about 1925 and taught for many years in Windfield until she retired in 1946.
Due to falling numbers, both the boys' and girls' schools were amalgamated in or about 1942 and the staff then consisted of Mark Lohan, Kathleen Meehan and Miss Gavin. When Miss Gavin retired she was replaced, although not immediately, by Mrs. Kathleen O'Brien who joined the Windfield staff in 1948 and taught there until 1959, when she moved to Killyan N.S. She was replaced by Miss Ann Lohan, Cloughbrack, who remained as assistant until the numbers declined in 1963.
In 1958, the present school was built. Mark Lohan retired in 1968. Cappagh N.S. pupils were then amalgamated with Windfield and Mr. Bernard Hynes, a native of Killyan, was appointed Principal at Windfield.
Mrs. Mary Tormey, the then assistant at Cappagh, was transferred with 16 Cappagh school children to Windfield where she taught the Junior classes until she retired in June 1973. The staff then consisted of Mr. Brian Hynes, Mrs. Kathleen Lohan and Mrs. Mary Tormey. In December 1972, Mr. Hynes secured a post at Brownsgrove N.S. His place was taken in January 1973 by Tómas Heavey. In July of that year, Mrs. Lohan and Mrs. Tormey completed their service and retired.
Since numbers were low, only one assistant, Mrs. Siobhan Cunningham, was appointed in their place and she began in September 1973. It continued as a two-teacher school until April 1987 when Mrs. Antoinette Giblin was appointed second assistant. Mrs. Siobhan Cunningham retired in June 1994 and Miss Marie Kilgannon was appointed to succeed her.
She taught in Windfield N.S. for three years until June 1997, taking a career break to move as Training Officer with Intel in Leixlip, Co. Kildare. She was succeeded in a temporary capacity for one year by Mrs. Riona Kenny, Ardagh, Glinsk who had taught in Moygownagh parish for a number of years previously.
Mrs. Antoinette Giblin retired in June 2009 and Tómas Heavey retired in December 2011.
Miss Róisín Kelly, Lavally, Tuam was appointed Principal in December 2011.
Mrs. Riona Kenny retired in December 2017 and Miss Mary Connolly was appointed in 2018. Mrs. Deirdre Cheevers was appointed as Special Education Teacher.
Windfield N.S, Newbridge, Ballinasloe, Co. Galway H53 A242
Phone: 090 6660203 or 086 8399632 | Email: info@windfieldns.ie